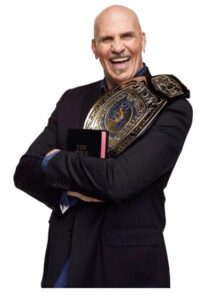 Born in the projects of Minneapolis, Minnesota on March 9, 1959, I was the youngest of four and raised by a single mom.
Prior to fifth-grade my family relocated to the suburbs of Robbinsdale, Minnesota. Not long after, I was enamoured with weights, bodybuilding and football.
I would embark on a football career starting in the seventh grade, through high school, college and finally graduating with a degree in physical education, health and coaching.
While training for a pro football tryout, a door of opportunity opened up for me to become a professional wrestler. This was not on my radar or something that I had dreams about but when the opportunity presented itself, I took advantage of it. My wrestling career officially began in June, 1984 and I concluded my career in November, 1992.

Little did I know that 11 months later, October 17, 1993, I would find myself at an altar surrendering my life to Jesus. This encounter changed everything, including, my heart, my attitude, my focus, my mindset, my destiny. Fast forward all these years later, I have now preached in approximately 1200 churches, 28 different denominations, traveled to all 50 states and 30 countries.
My heart is for soul winning and discipleship, with an emphasis on men's ministry. More than accolades on a football field or winning championship belts in a wrestling ring, my journey with Jesus is the true highlight of my life. The fact I get to partner with Him, travel the world, preach the Good News, call myself a child of God and help build His Kingdom is the highest honour bestowed upon a man I believe.
Greater Discipleship Center
will be Hosting Nikita Koloff
Saturday June 4, 2022 @ 9am to 3pm
Seminar Restoring Biblical Manhood
Admission $29 Lunch included
then Add the amount for Admission